Abstract
The Model 4700 Automatic Refrigerated Sampler is used to sample discharge effluent from a dairy manufacturer to give a comprehensive and reliable source of water quality data under the MCERTS certification scheme.
Equipment Used
The Teledyne Isco 4700 Automatic Refrigerated Sampler.
The Problem
The Water Framework Directive was introduced in 2000 and later became lawfully binding in 2003, introducing many new standards and guidelines highlighting the need for accurate and reliable environmental monitoring.
The key aspects the directive was introduced to protect are:
Surface Waters
Ground Waters
Ecosystems with a groundwater dependence
Estuaries
Coastal waters (out to one mile from low water)
One of the key policies of the directive was to introduce products and services that would reduce the degradation of our local habitats and environments, ensuring a better environment for future generations.
One of the key aspects to arise from the WFD has been the introduction of an Environment Agency scheme called MCERTS (Monitoring CERTification Scheme). One of the Key ambitions of the scheme is to ensure that measurement sites applicable to the WFD are being monitored accurately and reliably.
As Part of this scheme MCERTS put in place a policy to provide certified equipment that would be recognised as meeting the Environment Agency's standards set under the WFWD.
Site Requirements
As part of the MCERTS requirements it was imperative to ensure accurate and reliable samples of the water quality present at the discharge from the plant. As part of this procedure a temperature of 4 degrees C or below had to be maintained at all times.
Effluent from the plant was also discharged through a closed system, for this reason a pressurised line sampling system was also put in to ensure good representative and accurate sample volumes were taken. Flow paced sampling was required to ensure a sample representative of when discharge was present.
The Solution: Teledyne Isco 4700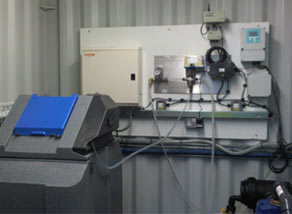 RS Hydro, a UK dealer for Teledyne Isco, decided based on the site requirements that the best available product was the Teledyne Isco 4700 refrigerated sampler. The sampler was chosen initially based on its MCERTS certification, indicating the sampler could achieve an accurate representative sample set under the MCERTS scheme.
A key advantage in achieving this with the Isco 4700 is its operating range of -29 degrees to 49 degrees C, meaning the sampler would be able to provide accurate samples under any conditions at the site. The 4700's three temperature sensors also ensured that the temperature within the refrigeration unit would not exceed a temperature of 4 degrees C.

The Isco 4700's revolutionary design utilises a tough, double walled, insulated polyethylene (LLDPE) cabinet to ensure reliable performance in harsh environments.

The addition of the Teledyne Isco pressurized line sampling system ensured that representative flow proportional sampling could be achieved on a pressurized system, and successfully met the standards set under MCERTS.