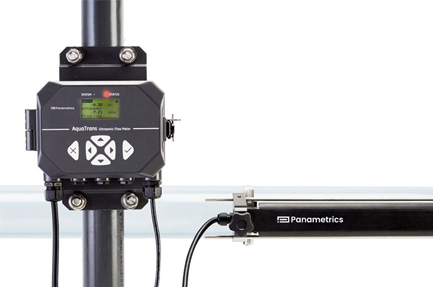 Abstract
RS Hydro were tasked with the supply and installation of 4 x AT600 flow meter systems for measurement of flow in chiller-condenser system water pipework. The site was within the air-side perimeter of a large airport. The installs were conducted over 2 visits with 2 installs completed at each visit.
Industry
Building Management Engineering
Equipment Used
4 x Panametrics AT600 clamp-on ultrasonic flow meters
The Application
RS Hydro was approached by a building management contractor in relation to their existing Panametrics clamp-on flowmeter systems, which were being used to measure flow in the chiller-condenser system water pipework within the air-side perimeter of a major airport. While the current flowmeter systems were verified and confirmed to be reading accurately, their age prompted the decision to upgrade to the newer Panametrics AT600 systems.
RS Hydro played a crucial role in the entire process, starting from assisting in the design and procurement of the new systems to their on-site installation and commissioning. The team ensured a seamless transition by swiftly acquiring the new AT600 systems and promptly installing and commissioning them under the supervision of an experienced engineer. This approach minimized the downtime between decommissioning the AT868 systems and commissioning the AT600 systems, thereby minimizing any potential disruptions.
In addition to the installation and commissioning, the building management company were provided with comprehensive handover documents and detailed information about the new installations. These resources were designed to allow the building management company to easily manage and maintain the new systems in the future, ensuring smooth operation and accurate flow measurement.
The AT600
The Panametrics AT600 clamp-on flowmeter is a versatile, reliable and affordable clamp-on ultrasonic transit time flowmeter. The AT600 is available with a number of options such as sensors for various pipe sizes from as little as 15mm to over 1000mm in diameter, cables for general indoor use as well as submersible IP68 cables and sensors which work in environments that are liable to flooding. There are also a number of outputs available such as HART, MODBUS as well Pulse and Totalizer outputs, making it a useful instrument system in monitoring of building management applications. The outputs also allow it to provide flow measurements to 3rd part heat calculators, making it a affordable heat meter system. There are dozens of AT600s already installed on sites like the major airport and similar sites such as small, medium and large manufacturing facilities.