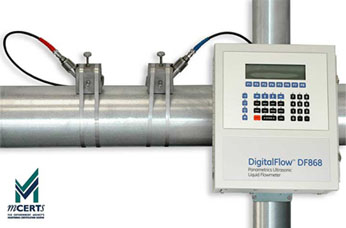 Abstract
RS Hydro were contacted to provide clamp-on flowmeter systems that need to be located outside and suitable to withstand varying weather conditions. As part of the brief, the flowmeters sensors and cable need to withstand being submerged in water for periods of time.
Industry
Water Industry - commercial and domestic supply
Equipment Used
Panametrics DF868 MCERTs clamp on flowmeter system with submersible co-axial cable and C-RS BNC electrical connection covers
RS Hydro were approached by two different water companies with a request for clamp-on flowmeter systems for larger diameter pipes. The caveat was due to the install location being outdoors, ordinary specifications did not suffice in these instances. The flowmeters not only needed to withstand occasional changes in weather, but also needed to withstand situations when the sensors and cables themselves are submerged in water.
RS Hydro assisted the water companies in specifying flowmeter systems suitable for the environment. DF868 flowmeter systems were selected because the process pipes needed to meet MCERTs environmental monitoring standards. DF868s lend themselves to outdoor installations with their NEMA 4X enclosures rated to IP66. This transmitter evidently needs to be mounted away from the zone which becomes submerged. The DF868 system is compatible with submersible co-axial sensor cables which have both terminal connections protected by lockable glands on the transmitter/electronics end, and submersible BNC connection covers at the sensor send. The submersible cables and sensor electrical connection covers allow for even greater ingress protection than standard, meaning that the cables and sensors can be submerged for a period of time.
The DF868 has a number of data output options meaning that data does not have to be read from the transmitter, it can also interface with Building Management Systems and IoT 4G telemetry. The versatility of the DF868 system regarding added ingress protection as well as options for remote monitoring of data lends itself to outdoor non-intrusive flow monitoring.
All in all, the DF868 is a robust, advanced flowmeter system. Various DF868 installations have been running for 20+ years!
Panametrics manufacture robust, versatile clamp-on flowmeter systems that meet the needs for challenging applications. A variety of water applications can be measured, regardless of whether the fluid is wastewater in a treatment works, or potable water transferred between reservoirs and treatment stations. Many other fluids other than water can be measured with a clamp-on flowmeter. For more information and assistance as to whether your process can be monitored, reach out to RS Hydro's flow sales team.