Abstract
The owners of a ship based in the Baltic Sea port of Odessa in The Ukraine, suspected that a shipping company was embezzling fuel from the ship. RS Hydro were contracted to provide evidential proof that this was the case.
Equipment Used
Panametrics PT878 Clamp-On Ultrasonic Flowmeters
The Project
The owners of a ship based in the Black Sea port of Odessa in The Ukraine, accused the operators of the ship of embezzling fuel from it. Lawyers working for the shipping shipping company needed to collect accurate data regarding the fuel consumption of this vessel in order to construct evidential proof that embezzlement had taken place. RS Hydro are internationally recognized as experts in the field of clamp on flow measurement, and were contacted to provide a solution for this rather unusual application.
The Solution
Fuel flow monitoring would need to be carried out under various sailing conditions in order to build a balanced and accurate picture of average consumption levels. Trial runs were made in the deep waters of the Baltic Sea where consumption rates are higher, and in shallow stretches. The tests conditions were set, with fuel monitoring being carried out with the vessel travelling in a straight line at a certain depth, over a set period of time. Ballast, tide, windage and engine power consumption were all taken into account in the tests.
It was decided that a series of Panametrics PT878 clamp on flow meters would be the ideal for this application. The PT878 uses transit time technology and has redefined what is possible with non-contact flow monitoring. Its unrivalled accuracy, compact and lightweight design and ease of use have made it an industry standard instrument.
The user can set the PT878 to log up to 100,000 data points which can then be downloaded to PC via an infrared port . Collected data can then be exported in CSV format and viewed in spreadsheet software.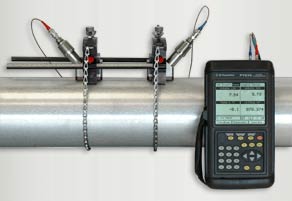 Installation is easy and the unit can be up and running in a matter of minutes. The user simply enters the site parameters, clamps the transducers to the pipe and adjusts their spacing. The PT878 has a wide range of clamping fixtures and transducers to suit almost all applications. It can be used on pipes with diameters from 0.5 inch to 300 inch and with a wall thickness of up to 3 inches. It is suitable for use on all metal and most plastic pipes.
Three PT878s were used for this application, measuring fuel flows in pipes with diameters from 1 inch to 3 inch . Each of the tests was duplicated on the return journey in order to provide two sets of data for confirmation of results and reporting purposes. The data collected during these tests has since been used as legal evidence.