Abstract
A well known University requires a monitoring system to be designed, installed and calibrated.
Equipment Used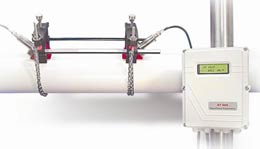 The AquaTrans AT868 Panametrics Liquid Flow Ultrasonic Transmitter and the Kamstrup Multical Ultrasonic Heat Meter.
Background
The University in question, heats its campus site via standard boiler house facilities,producing thermal heat / energy for distribution across the campus site. In line with new energy monitoring legislative initiatives (e.g EU Directives 2002/91/EC, etc) the university required a monitoring system to be initially designed, installed and calibrated to provide accurate, up to date information, to examine energy / heat utilization across the universities individual departments.
The Solution
On a preliminary appraisal from RS Hydro it was recommended that in regard to flow metering a Panametrics AquaTrans AT868 Clamp on ultrasonic flow meter be installed in collaboration with the Kamstrup Multical 401 Ultrasonic heat meter be used to achieve the desired flow and heat metering requirements.
The Equipment
Panametrics AquaTrans AT868
Available for a high range of monitoring applications (e.g wastewater, sewage, cooling and heating water)
Economical non-intrusive flow measurement
Simple setup, installation and low cost
Suitable for a wide range of pipe sizes and materials
Velocity, volumetric and totalized flow.
Internal keypad for field programming
Kamstrup Multical 401 Heat Meter
High level of accuracy with longevity and minimal operating costs
Simple to install and read saving time and money
Ergonomically designed, for the calculator to be installed up to 1.5m away from the flow meter
In addition to own data the meter can also accumulate data for two extra water meters, enabling all consumption data to be read simultaneously