Abstract
FlowView Telemetry Logger is one of the most versatile data loggers for any application where telephone lines are more costly or prohibitive.
Equipment Used
The FlowView Telemetry Logger.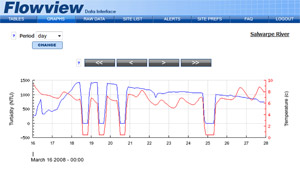 FlowView allows you to view and monitor up to eight channels per datalogger online using GPRS, GSM and SMS data loggers from any computer with internet access, at any time. The site has been specially purpose built to provide a simple yet safe platform from which clients can view their data. Various sets of data can be displayed simultaneously, enabling analysis and comparison of data patterns.
Description
The FlowView Telemetry logger is available in GPRS, SMS and GSM format depending on your requirements. GPRS allows users to see real-time data with updates every 15 minutes or sooner. The SMS and GSM versions provide a similar function but have lower running costs and less frequent update - typically every 24 hours.
The FlowView logger can be installed anywhere in the world using any network provider. This ability means that the data logger can be installed even in the remotest parts of the UK and worldwide.
The logger requires no external power supply and can last up to 5 years between battery changes. The dataloggers can be configured to monitor any analogue or digital signal and up to 4 parameters per data logger.
Applications
Flow Monitoring - pipe / open channel / effluent
Level Measurement - any environment
Water Quality Monitoring - any parameter
Rainfall Measurement
Estuary and Tidal Studies
The Specifications
Sensor inputs: Digital (up to 128Hz) or Analogue (internal or external pressure sensor - External pressure sensor (volt) or Transmitter (mA) 0-20 bar / 0-200 metres head / 0 -psig, accuracy +/- 0.1% combination)
Logging: Primary recording 48,720 readings. (Memory expandable to 245,280 readings on request.) Can be programmed to read continuously (cyclic mode) or for a specific period of time (block).
Frequency: 1-59 seconds, 1-59 minutes, 1-24 hours settings independent for primary and secondary channel 1mm (above sensor)
Minimum or maximum duration-triggered threshold alarm per channel. 16 alarms per logger. Each alarm out comment field 16 characters. Can be programmed to auto dial up to 16 telephone numbers on alarm with telemetry option (ie 1 per alarm).
Count and Event Logging: count and event logging modes independent for both recordings.
RS232 by mil connector for connection to hand held programming and data collection unit, laptop PC or desktop PC. Programmable up to 19,200 Baud.
Modem: 9,600 Baud 2-way Dual Band GSM Cellular modem, 900/1800MHz. Up to 8 Call out times/day for Downloads and Logger re-configuration 8 power up time windows for unscheduled calls (4 hours per day) optional Pager wakeup to enable telemetry system at any time. RS232, 300-38400bps.
Operating Temperature: -20 to 70 °C (-5 to 160 °F)
Ingress Protection: IP68 submersible.
Power Lithium-ion cell operational for 5 years under normal operating conditions. Warranted for continuous operation of up to five years. Low battery alarm in data packet when downloaded.