Abstract
When RS Hydro was approached by a well established food manufacturer with an application which involved monitoring effluent, RS Hydro had to decide on a monitoring system which could handle future site modifications and changes to the way in which waste water discharge would be monitored.
Equipment Used
Siemens OCM III, VS 100 velocity sensor, Custom made rectangular weir and flow reporter software.
Background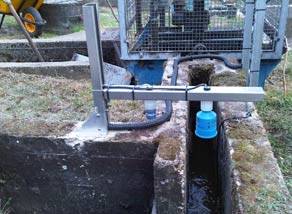 The majority of flow meter applications, two elements are key to their success; an affordable price and a system which can adapt to changes in it's function.
So when approached by a leading UK food manufacturer, RS Hydro were asked to provide a system which could combine good usability and extra functions which could be used later on when future changes were made to site.
The two monitoring points applications differed. One using a custom made rectangular weir and the other using a velocity sensor. It was decided that by using the same flow meter at both locations it would allow the user to download the flow data using only one type of software and process.
RS Hydro decided that the best unit to use would be the Siemens OCM III open channel flow meter. It was chosen because of it's standard features.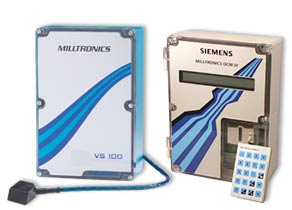 As standard the unit comes with multiple outputs including relays and analog outputs for the controlling of pumps and valves. The unit is also able to pace a sampler if flow based sampling is required. Another feature of the flow meter was the DC output. This was very helpful when powering the velocity sensor as there was no need to provide an additional power supply.
Outcome
The OCM III flow meter was successful in both applications showing its ability to measure the flow over a rectangular weir, as well as measuring flow using the velocity sensor to calculate flow under the area velocity method. The OCM III has shown it's versatility and quality as a meter which is adaptable to site and user demand changes.