24th May 2012 was the official launch of the globally unique farm research platform at Rothamsted Research North Wyke in Devon. The research platform aims to help agricultural businesses and farms provide sustainable and productive farming techniques at the same time as quantifying the impact of farming techniques within the environment. The farm consists of three beef and sheep farmlets, each of which will be managed differently so that international scientists can understand how to optimise production and environmental impacts. Commenting on the Farm Platform, Dr Phil Murray states, "We're really excited about what the Farm Platform will be able to offer the agricultural community." Dr Murray further adds that "the platform will enable us to control and study the entire farm system in unprecedented detail, providing scientists with the opportunity to scale up their experiments to see whether a treatment that was successful in the field works at the farm scale. This will mean that the research community will be able to offer advice to farmers based on research that has been road-tested in a real farm environment."
Unlike the DEFRA Demonstration Test Catchments project, which was started in 2010, the North Wyke farm platform not only looks to measure the outputs and effects but also allows researchers to control the inputs. Furthermore the project is based on 15 separate hydrologically locked fields, all with identical monitoring stations. This highly controlled and scientific approach allows researchers to employ new and existing measures within farming practices to reduce the impact of agriculturally-derived diffuse pollution on the environment.
The major benefit of the resources offered by North Wyke is that it will become a 'Research Hotel' for agri-environmental organisations gathered from different communities and disciplines. North Wyke will therefore act as a focus for research using the latest high-tech in-situ water quality and flow monitoring instrumentation in a controlled environment.

Monitoring The Farmlets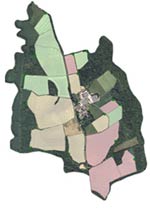 RS Hydro were contracted by Rothamstead Research in the spring of 2011 to install 15 high-specification walk in monitoring stations. The design of the stations was a collaboration between North Wyke and RS Hydro based on years of experience. RS Hydro have been responsible for installing all of the 15 high specification water quality monitoring stations, 15 soil moisture stations and wireless near real-time telemetry network (<15-minute). It is the largest farm platform of its type in the UK and probably the oldest worldwide.
Each farmlet is hydrologically isolated and there are over 9kms of French drains capturing all of the water running off the fields which then drains through each of 15 discharge points and water quality monitoring stations. By analysing the chemistry of these discharges it is possible to measure the balance of nutrient and carbon flux for each plot, according to different treatments. The 20ha of farmland has been subdivided into three farmlets:
Farmlet 1: managed with inorganic fertilisers to try to maximise production from the existing permanent pasture
Farmlet 2: managed with reduced inputs, relying on legumes such as white clover to capture nitrogen wherever possible
Farmlet 3: researchers will experiment with the latest techniques and technologies such as introducing new varieties of grasses with desirable traits and understanding establishment problems
The researchers and scientists involved with this project have learnt from the DEFRA Demonstration Test Catchment approach and have created a more uniform and scientific approach to monitoring, standardising on the same equipment and monitoring processes at every one of the water quality monitoring station (WQMS) locations. By using the latest wireless telemetry system from Adcon, the readings are captured in near real-time without any time-based reading drifting by more than one second from UTC. This uniform approach to monitoring and control means there are no concerns over inappropriate or non-standard equipment specification. All instruments measure at the same time, in the same way, hence any variations in readings are purely down to the physical characteristics of the plot, farming practices, hydrology and meteorology.
RS Hydro have not only installed all of the monitoring equipment on this project, but have supplied much of it too, including all of the Teledyne ISCO Bubbler flow meters, ISCO Auto-Samplers, variable speed bi-directional peristaltic pumps, state-of-the-art Adcon wireless telemetry system and soil moisture stations (soil moisture probes and rain-gauges).
This project is the largest of its type in the UK and probably the largest to be installed by a single company anywhere in Europe. The project took RS Hydro and North Wyke personnel nine months to install and provided many challenges on the way. "We are extremely pleased to be involved in such a pioneering project which will undoubtedly become a benchmark for future monitoring in the UK, especially under the Water Framework Directive," states Rob Stevens, Director (RS Hydro). Rob further adds, "this project is a prime example of the capabilities of RS Hydro, its personnel and its instrumentation, and supports RS Hydro's industry leading 'total solution' to environmental monitoring. Furthermore it demonstrates how the right technology and experience can genuinely push back the barriers of research in an environmental setting without having to compromise on techniques and costs.
The Methodology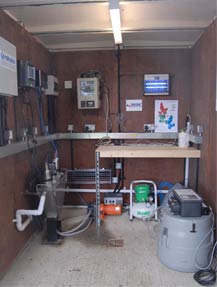 At the exit of each of the 15 farm plots, all of the drained water from each field naturally gravitates through the outlet flume which is used for both flow and water quality monitoring. Each Water Quality Monitoring Station (WQMS) kiosk has a multi-parameter water quality sonde, a Hach Nitratax nitrate analyser and a TRIOS spectrometer, an ISCO auto-sampler and an ISCO bubbler flow monitor. In addition, three of the kiosks also have a Phosphax phosphate analyser. All of the outputs from the instrumentation are connected to an Adcon radio telemetry unit (45 in all) which provides two-way communication back to the main server.
For a significant part of the year there will be little or no discharge from the plots and as such no meaningful readings will be possible. To provide fresh samples and ideal sampling conditions, samples are taken from a specially designed pumped flow-through cell housed within the WQMS. The trigger for sampling is provided by the flow meter registering a flow higher than a specified threshold.�  The flow data is captured by the telemetry system and is recorded within the online software a few seconds later. User-specified thresholds or algorithms then trigger an instantaneous command to the WQMS to start the sampling procedure. Once the flow-through cell is full, measurements are taken for nitrate, TOC, BOD, temperature, pH, conductivity, dissolved oxygen, turbidity, ammonium and phosphate.
Moving the Lab into the Field....
The researchers are able to fully control all of the monitoring instrumentation, samplers and pumps from any internet-based PC globally without installing any software. Users are also able to trigger (automatically or manually) an auto-sampler within the WQMS if any of the live readings are 'unusual' or over specified thresholds. This will then enable the researchers to undertake high-accuracy laboratory analysis of the captured samples. The telemetry system from RS Hydro is ideally suited to this highly controlled environment where precision, reliability, accuracy and true flexibility is required. Researchers need to have full control over the monitoring and control system in order to be able to develop algorithms. Therefore having a telemetry system that supports algorithms, plausibility checking and alarms is essential. Overall, this approach allows for a laboratory standard approach to be moved out into the field; an approach which has never been achieved before now. By way of an example, a specified rainfall intensity of 20mm/hr could trigger all of the samplers to take samples every 15 minutes. Furthermore, the telemetry system allows for variable time-based sampling: a typical auto-sampler can be triggered using flow or time as an input. However, it is important to get as many samples on the shorter rising limb as it is on the longer falling limb. First flush or fluxes typically occur on the rising limb and as such it is important to undertake more rapid sampling in this period. A prime example of this work is that done by the Exmoor Mires Project (University of Exeter/South West Water) using the Adcon telemetry system. Many parameters cannot be measured by standard instrumentation and as such surrogates can be used as way-markers to instigate sampling events. There are many advantages of automated sampling over spot sampling; these include reduced costs and lower staffing costs. Overall it means that any significant event will always be sampled and analysed.
RS Hydro have deployed this type of environmental monitoring system across the UK and overseas in both extreme environments such as the jungles of Africa, to the upland areas of the UK. Often these water quality monitoring outstations are used to provide instantaneous alarms against water quality incidents within catchments.
Early data
Although the platform was only launched in Spring 2012, a large amount of core data has been captured already including the soil moisture, rainfall and flow. The Adcon system has an integrated monitoring and control database which is currently acquiring over 300 readings platform-wide every 15-minutes. The Adcon system is the most advanced wireless telemetry system of its type and is ideally suited to sophisticated environmental monitoring. Almost every Adcon remote telemetry unit (RTU) has digital outputs as well as up to 56 analog/digital inputs which allows organisations to remotely control hardware and instrumentation including pumps (including variable-speed), electrical switches and valves.
The Future
The future and success of catchment monitoring will rely heavily on reliable monitoring systems that can work anywhere, largely independent of power and GSM/GPRS signal and small enough to avoid issues of planning and costs of installation. It is clear that it is one task to obtain 'just any old data' from accessible remote locations but to obtain 'precise and controlled data' from ANY location is another task altogether. Commenting on the success of this solution, RS Hydro's MD Rob Stevens states ' the North Wyke project sets a precedent for remote monitoring and builds upon the initial developments achieved within the DEFRA Demonstration Test Catchments. The system we have put together for North Wyke will set the standard for all remote monitoring in the UK where accurate and precise monitoring and control is required. The North Wyke database currently records approximately 1000 water based readings every hour and will be used as the basis for expanding the farm platform as more scientific users, researchers and funding partners get involved from across Europe.'
Such is the demand for our services RS Hydro are now working around the world to implement similar environmental monitoring and research projects. If you would like to know more about RS Hydro's total solution to environmental monitoring please contact us.