Abstract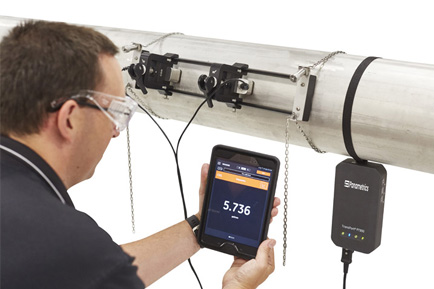 The PT900 portable clamp-on ultrasonic flowmeter was requested by three separate manufacturers within the food & drink industry. Whilst two of the companies required PT900s to measure the flow of water, the third company opted to measure milk flow measurement within their process.
Industry
Commercial Food and Drink Production
Equipment Used
Panametrics PT900 portable clamp-on ultrasonic flowmeter
The Application
RS Hydro were contacted by 3 separate companies operating within the UKs commercial food & drink production sector to assist with water and milk product flow measurement within their respective production facilities.
One user was a large multinational soft drinks manufacturer with several sites in the UK. After a 3 month trial period with the PT900, this user opted to acquire 5x dual channel PT900s with a range of transducers and accessories for measuring flow rates within small and large diameter process pipes for 5 of their sites within the UK. They will be used to temporarily monitor water flows within the production facility and data will be used to adapt processes requiring water as an input.
Another user was a smaller scale cake product manufacturer, who used the PT900 for similar purposes. This user was also able to benefit from remote support provided from RS Hydro's PT support engineers free of charge.
The final user decided to measure milk flow within 6x small diameter pipes. Due to acoustic properties of fluids, the PT900 is not just limited to water flow measurement but can measure any fluid that can conduct ultrasound waves. RS Hydro has a list of fluids that can be measured with clamp-on ultrasonic technology here.
Due to its portability, the PT900 is a highly accurate, reliable instrument that can be retrofitted and removed to a large variety of process pipes. It is especially useful for verifying flow rates within process pipes that are being recorded by in-line installed flowmeters, or even for process lines whereby flow rates are not currently measured or known at all!
The PT900 Portable Flow Meter
With increasing legal requirements to monitor water use within industrial production facilities in the UK, now has never been a better time to use a PT900 to gather data on industrial flow processes and prove that fluid consumption is within the legally required limits. Due to the portability and the range of fluids that can be measured with the PT900, possessing an accurate and reliable portable flowmeter will not only assist manufacturers for day to day monitoring needs, but will also be useful for situations where an immediate on the spot measurement would be needed.
For more information on the services available for the PT900, as well as if you need to check your application is suitable for the PT900, RS Hydro's flow team is on hand to assist and can be contacted here.