Abstract
RS Hydro has been tasked with providing a stable, reliable remote monitoring solution to capture surface water samples during rain events for the purpose of phosphorus monitoring from agricultural fields.

Equipment Used
ISCO 3700 autosampler, ISCO 1640 Level Activator, RS Hydro remote solar charging system.
Industry
Wastewater
Background
Increased concentrations of phosphorus (P) in riverine systems lead to eutrophication and can contribute to other environmental effects. Chalk rivers are known to be particularly sensitive to elevated P levels. Wessex Water has been working extensively on monitoring episodic runoff losses of phosphorus in order that they can quantify baseline losses from agricultural fields and reductions in those losses once mitigation measures are put in place.
The Solution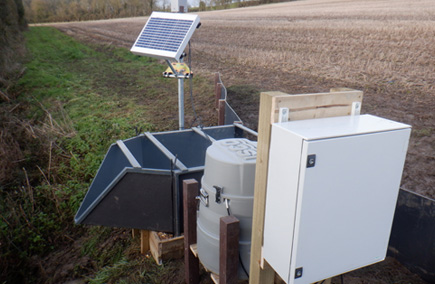 RS Hydro was tasked with providing a remotely powered system that would collect samples triggered by a rainfall event. The runoff was channelled through a flume, where the water level is monitored and samples were taken over the duration of the runoff event. The samples are then sent to the lab for analysis.
A custom charging system was built to provide a robust power supply to the ISCO 3700 autosamplers. This included a charging control system, solar panel, and battery.
The samplers are triggered via the ISCO 1640 level activator a level sensor. This detects water flowing within the flume and once detected sends a signal to the ISCO flow input port. The sampler program is then started and the rainfall event is captured. Samples are then stored until collected for lab analysis. Optional telemetry can be provided to send an SMS or email alert that a sample has been taken or an event has occurred.
Testimonial
The monitoring stations are left long-term and generally away from the power supply. RS Hydro provided not just the autosampler but also the solar power solution as well.
- Sean Tyrrell, Wessex Water Ltd