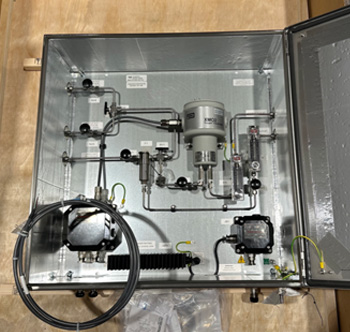 Abstract
RS Hydro were contacted to provide a bespoke solution to measure trace levels of background Oxygen gas within a Biogas process pipeline, used within a large Waste Water Treatment Works in the UK.
Industry
Biogas generation within the Water Industry
Equipment Used
The Panametrics XMO2 Smart Oxygen Analyser
RS Hydro were contacted by process design consultants to assist with providing a system that is capable of measuring small amounts of oxygen gas within a biogas process pipe.
Biogas is created as a side product from the treatment of waste within a Waste Water Treatment Works. This Biogas can be used as fuel for Engines and Generators that can generate electricity, either to power the WWTW or to feed energy into the National Grid.
Biogas contains various different gases, such as methane and carbon dioxide. Oxygen is deemed as a background gas in this mixture. As such, higher than desired levels of oxygen need to be measured to ensure that the quality of the biogas being created is suitable for use within the biogas generators on-site.
The process-pipe network itself can be complicated if the WWTW site is large. Furthermore there are various gas conditioners such as gas driers, which need their performance and operability measured to ensure that these assets are also working effectively.
A target composition of background oxygen gas in this case is 1%, however it is possible to measure greater oxygen percentages in other applications.
After system specification consultation meetings between the design engineers, RS Hydro and Panametrics, process information was collated and used to design a oxygen gas analyser sample system dedicated to the specific process.
The Panametrics XMO2 thermo-paramagnetic sensor was selected. Oxygen has the property of being attracted into a magnetic field, the XMO2 uses this paramagnetic property combined with heated thermistors to measure the oxygen concentration. When used in a bespoke sample gas system, the gas is supplied to the sensor at optimal temperature, pressure and flow rates. In turn, this provides excellent accuracy and measurement reliability.
Once the system design and specification stages were complete, the bespoke XMO2 oxygen sample system was fabricated at Panametrics production facility and shipped ready for the system to be retrofitted into the biogas process pipe network.
The result was a high-tech measurement system, ensuring that the quality of the biogas used for power generation was a good standard.
The XMO2
The XMO2 is not unique to the Biogas generation process, other areas of use are also possible such as other natural/industrial gas processes, food and beverage industry as well as refineries and steel plants. Standard systems are also available for common applications, each Panametrics gas analyser sample system comes with design, construction and inspection of all systems. Installation, start-up and commissioning support is also included and the systems arrive pre-calibrated, with extended warranties and service plans available too.
For more information or assistance with measuring background gases, contact RS Hydro Sales.