Join Teledyne ISCO for their upcoming webinar 'The Fundamentals of Open Channel Flow Rate Measurements'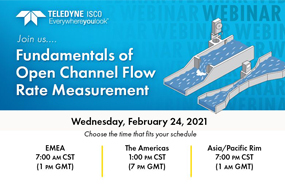 On Wednesday 24th February Teledyne ISCO will be holding a Fundamentals of Open Channel Flow Rate Measurement Webinar.
Choosing the right set of tools and techniques for open-channel flow measurement is best accomplished by a standard pre-assessment of site conditions, application requirements, and currently available tools and technology. In this introductory-level webinar, Darrell Kuta, Business Development Manager, discusses how to identify-and properly address-the most important factors affecting the design of your open-channel project.


Assessing site conditions and application requirements


Primary measurement device options (weirs, flumes, inserts)


Flow-measurement technologies and how they compare


Which types of sensors are best for your site and why?


Installation, configuration, and maintenance considerations


Manual vs. automated data collection


Area velocity calculations and data verification


From this 45-minute presentation plus interactive Q&A session, attendees will be able to more rapidly assess open-channel sites, select the right tools for the job, and apply best practices for ensuring highly accurate level and flow data.
You can sign up for the webinar at your preferred time below:
1PM GMT:
CLICK HERE
7PM GMT:
CLICK HERE
1AM GMT:
CLICK HERE
8th Feb 2021