National LaserFlow Training Day 2019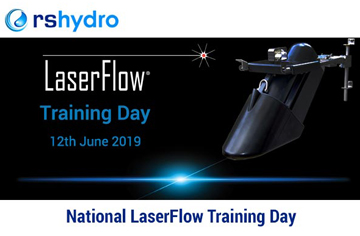 We are delighted to announce that we are running another National LaserFlow Training Day to be held on the 12th June.
With new legislation and drivers for MCERTS certified non-contact flow meters to measure wastewater applications, we think this is perfect timing to understand how the LaserFlow™ can supersede the need to use and maintain wetted area velocity sensors, or indeed install drastically more expensive flume channels. It is quite easy to see why the LaserFlow™ has been adopted widely within the water industry, but with the demand set to increase rapidly for accurate non-contact MCERTS flow meters, many people have asked if we could provide another national training day. This day will not only cover all aspects of installing and maintaining the LaserFlow™, but also wider issues such as compliance monitoring, Bulletin 27, new products and also case studies from across the UK.

What will be covered?

The training day will feature talks and practical demonstrations which will cover everything to do with the ISCO LaserFlow and its various deployment methods, by Rick Dey, Global Product Manager for Teledyne ISCO. It will be a busy but fun day, covering the following:



Selecting the right flow meter for WWTW; and in particular open channel/inlets


Compliance Monitoring


MCERTS Bulletin 27


Non contact flow meters for sewers


Introduction to the NEW ATEX LaserFlow


A range of case studies from across the UK


A Live demonstration on the rig


Questions & Answers


And of course lunch, a few cakes and as much tea/coffee as you can consume!


Who will the day be useful for?

Anyone involved in MCERTS or open channel flow measurement from flow practitioners, water company operatives, consultants, technicians through to MCERTS Inspectors and MCERTS Managers. Everyone will learn something new during the day.

Where will it be held?

Training will take place at the Chateau Impney Hotel in Droitwich just 2 minutes from the M5 Motorway, Junction 5. Complimentary tea and coffee will be available throughout the day and a buffet lunch will be provided.

What can I expect to learn?

Expect to walk away from these training sessions with an in-depth knowledge and understanding of the benefits and practicalities of the many features of the ISCO LaserFlow for a wide range of applications, and also how to install and use the LaserFlow.

One thing we are sure about is that the LaserFlow will leave a lasting impression! 

How much does it cost?

The training day is free to those attending with all costs met by RS Hydro. We are asking that everyone who attends makes a £20 donation to WaterAid. For those travelling a long way, please feel free to book a room.We will also organise a meal out at a local eatery, more cakes no doubt!

How to Book

Click Here, to be taken through to our online booking form to reserve your place or telephone the office on 01527882060. A Full itinerary will be sent on after booking.
We look forward to meeting you soon, and please don't hesitate to contact us with any questions you may have.
Email: Rob.stevens@rshydro.co.uk
28th Apr 2019