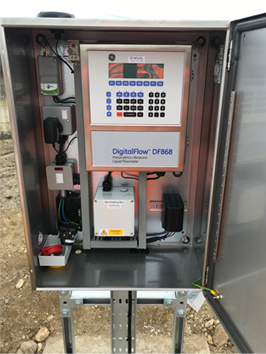 Abstract
Following a review of site drainage plans and subsequent site upgrade, RS Hydro were contacted by a processor of incinerated bottom ash (IBA) and aggregate (IBAA) to provide a MCERTS flow meter to measure discharge from bund into an adjacent stream and provide alarms and automated reports via SMS and a web browser. Incinerated bottom ash products are a cost effective and sustainable product widely used in the construction industry and with demand set to grow year on year the site needed a solution that could be expanded as output and requirements changed.
Industry
Mining and Aggregates
Equipment Used
Panametrics DF868 MCERTS ultrasonic flow meter, kiosk and Wildeye 4G Iot Logger
The Solution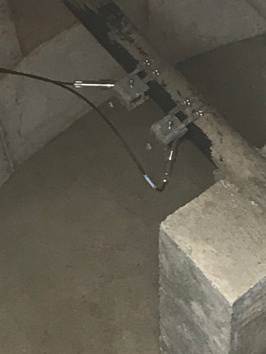 A custom chamber was constructed at the discharge point to allow non-contact, ultrasonic, clamp on sensors to be fitted. The use of ultrasonic sensor negates any need to cut into the pipe. The signal cable was ducted 50m to the kiosk where AC power was provided and connected to a Panametrics DF868 which is widely accepted as the "go to MCERTS clamp on flowmeter". The DF868 provides peak, normal and total flow and was mounted in a frost protected kiosk engineered specially for the client and incorporated a Wildeye 4G Iot Logger. Thanks to using a modular kiosk and clamp on sensor technology the installation was completed in a day without any downtime.
The data is logged every 15 mins and sent via 4G to an AWS and accessed via a SSL secure web page without the need for any additional software and with email reports being sent daily, and on demand, to internal and external stakeholders with future plans including a multi-location dashboard and integration with 3rd party systems via XML, .ftp or a REST API.
Wildeye Iot loggers were chosen as they are scalable and extremely reliable due to the use of a roaming SIM, meaning if a mobile phone mast is down it will continue to log and look for another mast to transmit to. The Wildeye has multiple inputs and is also agnostic to the sensor type fitted allowing clients to increase their environmental monitoring as their requirements change such as the simple addition of water quality sensors that 3rd parties and RS Hydro provide to measure pH, DO, Turbidity, weather stations etc.