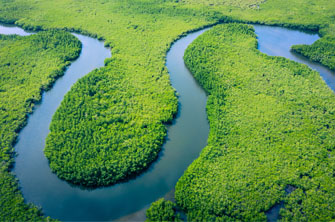 Abstract
RS Hydro was tasked with providing a solution to improve data resilience and ease of retrieval on a UK University project in the Amazon Rain Forest.
Industry
Education and Research
Equipment Used
Levelogger Juniors x 11, Direct read cables x15, Data grabber x2, Barologger x2
Background
The University has been leading a research project in the Amazon basin to monitor inundation levels in floodplain forest sites. Their existing Solinst Leveloggers and a Solinst Barologger have been successfully deployed for several years but relied on manual data retrieval, meaning having to time data retrieval precisely with low water levels and physically visiting each site meant without knowing about any issues until the sensor was physically retrieved.
RS Hydro explored different options for a better, more flexible data retrieval of data using the existing Universities assets whilst keeping costs to a minimum and conducted an audit of their equipment and were able, based on experience of similar projects, to recommend several solutions.
The Solution
The ideal solution would have been continuous real time monitoring over 3G or 4G using the Solinst 9100 STS Telemetry System or 9200 RRL Remote Radio Link but due to lack of mobile phone signal and topography they had to be discounted. A solution was found using the low cost and simple Solinst DataGrabbers and Direct Read Cables. The DataGrabber stores logged data which is easily and simply downloaded at site onto a standard USB memory stick. The use of a standard USB memory stick is particularly important in remote areas and when numerous people are working on the same project. The Direct Read Cables allow the sensors to be left in situ negating the need to remove and disturb the loggers and any risk to a change of datum.
The final result was a cost-effective solution of providing new DataGrabbers and Direct Read Cables at a price point that allowed the University project to be extended and simplified with the added benefit of improving data integrity and resilience.