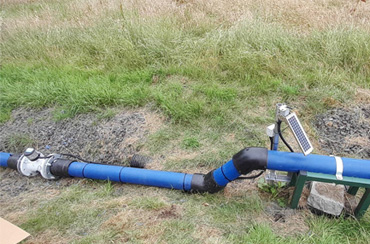 Abstract
A customer contacted RS Hydro to identify suitable monitoring solutions for measuring flow in both closed and open-channel applications within a landfill site containing waste mud material from aluminium production.
Industry
Industrial/Process
Equipment Used
Instrumentation supplied included the Siemens MAG5100W and MAG6000 transmitter, Siemens MAG8000, and the Teledyne ISCO Duratracker with AV350EX sensor. The telemetry was provided by Wildeye.
The Solution
RS Hydro began by conducting a detailed site survey to assess the unique characteristics of the landfill. This information formed the basis for their tailored solutions. The resulting report and proposal were shared with the client.
The proposal included a provision for real-time monitoring solutions for each application, indicating RS Hydro's commitment to delivering accurate and up-to-date data to the client. RS Hydro's engineering team collaborated closely with the client to ensure the accurate installation of the chosen solutions.
Once the installation was completed, RS Hydro's engineers visited the site to commission all the flow meters and telemetry systems. They provided comprehensive training to the client's personnel on how to operate and manage the monitoring systems effectively including educating them on the operation of each instrument and the process of interpreting the collected data.
The installation of the pipework and fusion welding was performed by a third-party contractor under RS Hydro's supervision. This step required effective communication and coordination to ensure correct implementation.
RS Hydro's engineers took charge of commissioning the flow meters and telemetry systems on-site. They meticulously tested the systems to ensure accurate data collection and transmission.
RS Hydro successfully addressed the customer's expectations by providing tailored monitoring solutions, overseeing installations, commissioning systems, offering training, and supplying a range of instruments to accurately measure flow within closed and open-channel applications in the landfill site. The detailed approach ensured the effective implementation and operation of the monitoring systems, contributing to the client's overall goals.